"How can you explain this?"

This article (Blue) is a stub. Why don't you help the GoAnimate Community by expanding it? Just smash that "Edit" button and expand it as much as you can!
Hey! Something's not right!

This page contains poorly written grammar, so somebody needs to fix the grammar on this page (or comment/thread/message wall). This means that an admin will have to edit pages and/or comment and make the article look clean and tidy. Also, if you carry on using bad grammar, then you may be banned from this wiki for a set period of time. Please adhere to the rules or you will be grounded for 2 weeks as punishment for using bad grammar. Thanks for reading and keep contributing.
Blue Is A Character He Is 10 Years Old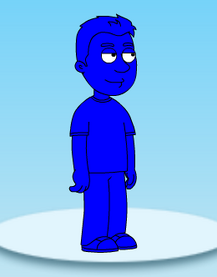 Ad blocker interference detected!
Wikia is a free-to-use site that makes money from advertising. We have a modified experience for viewers using ad blockers

Wikia is not accessible if you've made further modifications. Remove the custom ad blocker rule(s) and the page will load as expected.