Cammy



Real name

Camille Darcy Primrose, Sunniva Darcy Primrose,Cherry Darcy Primrose, Bonnie Darcy Primrose

Gender

Male(He has female part. However, he's not transgender. He's more nonbinary/ambiguous)

Age

19

Birth date

04/30/1999

Species

Human(April 30th, 1999-May 18th, 2011) Sack-boy(September 4, 2011-February 2015 due to being hypnotized by an LBP fanboy ), human again(2015-around 2017) Fairy(Summer 2017-April, 22nd 2018) Human(April 22nd, 2018-June 20th, 2018), Neko(June 20th, 2018-present)

Nicknames

Cammy Cam Camy Cherry Little Fairy Cutie Cammie Sunny Bon Bonnie Bonny Cherrie Primrose Sunni

Hair color

Banana yellow(April 30th 1999- January 2016) Brunette(2016-2018), Blonde(August 2018-present)

Eye color

Storm Grey(April 30th,1999-June 28th,2017) Amber(June 28th,2017-July 21st, 2017),Crystal Blue(July 21st,2017-July 23th, 2017), Chocolate Brown(December 7th 2017-2018), Rose Quartz(2018-April 22nd, 2018), brown again(April 22nd-Present)
Cammy
(Real name: 
Camille
Darcy Primrose aka Sunniva  Darcy Primrose, Cherry Darcy Primrose, Bonnie Darcy Prinrose
) is somewhat famous role play OC is created by Trinity Hayes.
Bio
Cammy is born to Thomas primrose, a retired postman now construction worker and Francine Primrose aka Bennett, a former waitress at local diner. He has a appearence of a little girl and often mistaken for a girl because of his long hair and interest in cute stuff. He have a girlfriend named Carla Angelica Dawson, has longtime long distance best friend named Harley clover whom he met in preschool when they're kids but he moved back to ireland, corey, percy, Bailey, margaret, melody, kiki, butterfly daisy, sunshie, dottie, fawn, mabel, pansexual aaron, kitty aaron, pia, poppy. Older Brother named Pandora who is 3 years old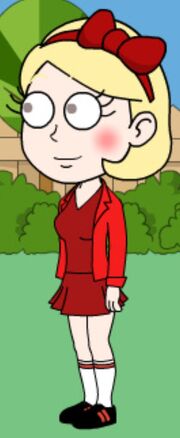 er than him. 
Personality
Cammy is kind, cheeky, cute, delightful, quirky, cheerful, happy, playful, joyful, sweet, sensitive, respectful, childish, peppy, girly, adventurous, abnormal, outgoing, energetic, doglike, pretty 19 years old who loved fantasy stuff, flowers, adventuring, music, fairy tales, cute things such as cats, bunnies, kids stuff such as bubbles, girl stuff such as hair-clips, hair-bows, perfume, nail polish, sleepovers, He has the behavior of a child female or Spongebob. Cammy have both ADHD and Autism. He can be very naive, eccentric, mischievous, hyper, troublemaker, cheesy sometimes. His magical abilities is speed plants growth up and extend it's lifespan(in fact, he is very good gardener), making bubbles, adding enhanced flavors in food, pulling tricks on people, healing, turning stuff into something else, making things invisible, bringing stuff to people.
Appearance
Cammy is known for his cuteness and personality of a happy little girl. He is 19 year old with decent long thick blonde hair, Large brown eyes(Used to be different colors like grey, amber, blue, and pink) with long lashes, pale skin tone, short statue, cute happy smile, pink rosey cheeks. He often mistaken for a girl or child.
Family
Mrs. Primrose(Real name: Francine Primrose aka Bennett)(mother): June 15th, 1974 Age: 44
Mr. Primrose(Real name: Thomas Primrose)(father): January 25th, 1968 Age: 50
Marisol Sunniva Primrose(New younger sister): March 21st. 2008 Age: 10
Pandora Hazel Primrose(Older Brother): March 11, 1996 Age: 22
Madeleine Bennett(Maternal Grandmother): November 4th, 1941 Age: 75
Harry Bennett aka Taylor(Maternal Grandfather): October 11th, 1939 Age: 77
Benson Primrose(Uncle/Thomas's older brother): August 15th, 1964(Age: 55)
Millicent Lucy Primrose aka Rosemund(Aunt/ben's wife): November 16th, 1966(Age: 52)
Hannah Primrose(cousin): June 29th, 1992(Age: 26)
Matthew Primrose(cousin): March 8th, 1989(Age: 29)
Diana Primrose(cousin): February 22nd, 2009 (Age: 9)
Benson Primrose jr(cousin): December 10th, 2005(Age: 12)
Olivia Primrose (Aunt): September 4th, 1986 Age: 31
Michael McKenzie(Olivia's husband/Uncle): November 19th, 1983: Age: 34
Uncle Robert Benettt (Uncle): March 3rd, 1970 Age: 48
Fiona Bennett aka Cooper (aunt/Uncle Robert's wife): February 14th, 1969 Age: 49
Ethan Primrose (Paternal Grandfather): March 27th, 1928 Age: 90
Betty Primrose aka Auclair(Paternal Grandmother): July 18th, 1933 Age: 86
Lisa Bennett(once removed cousin): May 23rd, 2007 Age: 11
Robert Bennett jr(cousin): December 21st, 2001 Age: 16
Aaron Bennett Aka Fictional Aaron(Uncle robert's son/Cousin): November 1st, 2001 Age: 16
Aunt Ophelia Bennett(late aunt): April 23th, 1964-June 28th, 2006(died at age 42 )Reason: Sudden adult death syndrome
Kylie McKenzie: August 12th, 2009 (Age: 9)(Cousin)
Brianna McKenzie: August 12th, 2009(Age: 9)(Cousin)
Joshua McKenzie: January 6th, 2007(Age: 11)(Cousin)
Eugene McKenzie: May 25th, 2005(Age: 12)(Cousin)

Aaron McKenzie:

Sally Bennett  aka Eriksson(Great grand mother/ Madeline's mother): July 21st, 1912-2009(Age: 97) a Reason: Old age
Henry Bennett (Great grandfather/Madeline's father): May 24th, 1912-Summer 1998(Age: 86) Reason: illness
Arthur Primrose aka (Great grandfather/Ethan's father)September 3rd, 1902-Summer 1978(Age: 76)Reason: Unknown causes
Helga Primrose Aka Williams(Great grandmother/Ethan's late mother): June 10th, 1903- April 6th, 1935(age 32). Reason: Tuberculosis
Pet Cat: Pepper,
Facts
Cammy have a delayed puberty. He does not develop facial hair and body hair like other guys does.
Cammy is inspired by trinity's little sister, hello kitty, snow white, kagome Higurashi, sailor moon, pinkie pie, tinkerbell, ariel, shirley temple, trinity's niece, Spongebob Squarepants, Winnie the pooh, people with child voices, people older than they look, people with  long thick hair, clefa, clefairy, jiggypuff, igglypuff, pikachu, sanrio, anna, honey, cat, rabbit.
Cammy's sexuality is pansexual. He can date people regardless of their gender or sexuality. He mostly date girls in GoAnimate universe
Camille's nickname is named after a Street Fighter character. 
Cammy is Australian-Swedish-German-French-South Korean-Japanese-Chinese American. His grandmother's family come from Australia and his grandfather's family come from France, his great-grandfather's family is from Sweden, his great great parents is from japan, his great grandmother is from south korea, his great great grand mother is from china, his great grandparents is from germany..
Cammy's previous names are Sunniva, Cherry, Bonnie.