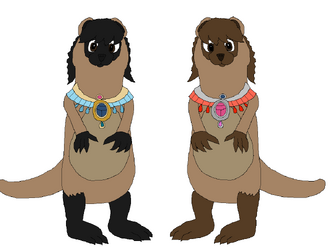 Cleopatra and Karma are colored verisons of Cherry. They're twins that are originally from Egypt but they moved to Israel and don't speak english, but they speak Arabic instead. both of them are older than Cherry by almost 8 years.
Age: 24
Gender: Male
Nationally: Egyptian
Height: 4'8
Weight: Thin
Hometown: Egypt but moved to israel 
Birthday: July 25th, 1991
Zodiac: Leo
Girlfriend: None
Species: Human, Egyptian Mongoose (in Sophie the Otter's fanon)
Personality/Physical Appearance
Cleopatra and Karma have medium curly hair with their bangs covering their forehead(cleopatra have black hair and karma have dark brown hair) and dark brown eyes. They have darker medium skin complexation and same apperance as Cherrylollipop155 but different height Cleopatra and Karma wear dark blue hijab but different colors and they're both has gold nose chain and wears tan long dress with sleeves and brown sandals, or  scarab wesekh collars. Sometimes they wore nijab doesn't matter they're not part of ISIS(cleopatra wore black and karma wore white)  In Sophie the Otter's Fanon, they are Egyptian Mongooses that only wear scarab wesekh collars.
Ad blocker interference detected!
Wikia is a free-to-use site that makes money from advertising. We have a modified experience for viewers using ad blockers

Wikia is not accessible if you've made further modifications. Remove the custom ad blocker rule(s) and the page will load as expected.