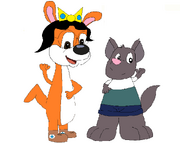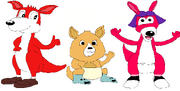 GoGangaroos is a GoGang Movie by Sophie and Igor. It is a crossover with the Cinar-dubbed anime Adventures of the Little Koala.
Plot
Upon receiving a letter that was attached by a thrown boomerang in GoCity, the heroes have been invited by Roobear Koala to a journey with him down under. Unfortunately, trouble brews when Roobear and his friends are trapped in a cage on top of Mt. Breadknife by The Wicked Wizard. To make matters worse, a real curse by the wizard has transformed Igor, Sophie, and the rest into kangaroos, each in a different cartoon, brand, or video game style. Aside that, the henchmen of the Wicked Wizard such as Cerberemus (Three-headed Emus), Dingmons (Demonic winged dingoes), Venotremes (Platypi and Echidnas that attack with poison), and Kiwoks (Evil Kiwi bird-Ewok hybrids) have been summoned. The heroes dub themselves the GoGangaroos and use ancient Australian weapons to battle the minions and rescue Roobear and company.
Cast
Paul as Igor, Gannon Scheer (WageGannon6), and Blue Mario
Kayla as Sophie, Shauna, Mimi Rabbit, and Jelly
Eric as Carkle, Horsey Kangaroo, and John
David as Robert, Connor, Colt Kangaroo, Thegoldenbrick1, and Preston
Brian as SwagMuffin
Julie as MC Adore and Betty Koala
Kimberly as Princess Zelda, Peanut Otter, and Roobear Koala
Tween Girl as Laura Koala
Steven as Floppy Rabbit
Young Guy as IA, Nick Penguin, and Elijah Eubank (MegaToon1234), Pingy
Belle as Pamie Penguin, Rosalina, and Samus
Professor as Walter Kangaroo
Shy Girl as Baby Butter Otter and Mingle
Transcript
[Igor and Sophie present]
[The title of the special appears]
[We fade into the GoCity skyline. An unidentified object is shown spinning across the screen]
[It is revealed to be a boomerang, it is shown flying towards Igor's house]
[The boomerang lands next to Igor, Igor picks up the boomerang]
Igor: "I wonder why that boomerang came into my room.....Wait! There's a sticky note on it!" (reads it) "Dear Igor. Join me and my friends for an adventure in Breadknife Village! It will be a ton of fun and I bet you'll like it. From Roobear Koala." (stops reading) "Neat."
Trivia
List of cartoon, brand, and game styles for each hero's kangaroo form:
Igor: Sonic the Hedgehog
Sophie: Kangoo Juniors
Preston Evergreen: Adventures of the Little Koala
Peanut: Yoram Gross
Jelly: Aussie Land
Baby Butter: Hanna-Barbera (specifically Shirt Tales)
KingKool720: Mother Goose and Grimm
Pingy: Yoshi