Jason Vorhees is quite possibly the worst troublemaker to ever exist, he has killed over 9000 people. he is from the friday the 13th series.
Jason Vorhees



name

jason vorhees

species

human (friday the 13th 1-4) zombie (friday the 13th 6-10)

alignment

lawful evil

friends

pamela vorhees

enemies

everyone else

occupation

serial killer
about
jason vorhees was once a normal kid at summer camp, but one faitful day, he apparently drowned in a lake! a few years later his mom started killing the camp Councillors that failed to save jason, but she failed, and she was decapitated by a machete. however it turns out, that jason wasn't dead! and he was angry that someone killed his mother! so now he roams camp crystal lake, killing people with his machete!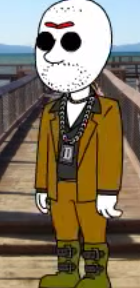 Ad blocker interference detected!
Wikia is a free-to-use site that makes money from advertising. We have a modified experience for viewers using ad blockers

Wikia is not accessible if you've made further modifications. Remove the custom ad blocker rule(s) and the page will load as expected.