This page belongs to the one and only IA.

Please do not make any edits without permission, unless you are correcting spelling/grammar errors, adding categories, or adding images. I'm currently watching you in your sleep.
Kasai is the main protagonist in R.O.B.O. , he was originally a construction robot, but he became the leader after Magnourus' brutal death at the hands of Obsidian, in The Beginning part 2.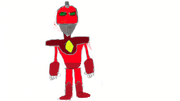 "How can you explain this?"

This article (Kasai) is a stub. Why don't you help the GoAnimate Community by expanding it? Just smash that "Edit" button and expand it as much as you can!
Ad blocker interference detected!
Wikia is a free-to-use site that makes money from advertising. We have a modified experience for viewers using ad blockers

Wikia is not accessible if you've made further modifications. Remove the custom ad blocker rule(s) and the page will load as expected.