Landed in the wrong path?

This article is about the screwed up version of CoolGamer23. For the original character, see CoolGamer23.
Wikia Fan

, how dare you watch KewlGamer Nijuusan!

This page/post may contain some content that some users may find offensive, but not strong enough to be deleted. This may include mild profanity, drug references, violence, and some suggestive themes. If you do not want to be offended or exposed to it, go back to your previous page/post or go elsewhere.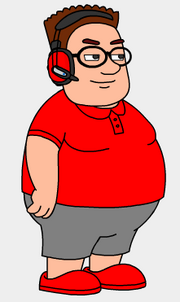 KewlGamer Nijuusan
, often spelled
KewlGamur
, is a really screwed up and crappy version of 
CoolGamer23
created by Chrome. He is a cyborg known to steal stuff, lie about others, and grief Minecraft servers.
Personality
"I've never gotten fat after eating two whole pizzas in two runs, and I never eat McDonald's every day."
—CoolGamer23, expressing his opinion on him
He is the negative version of CoolGamer23. Unlike him, KewlGamur steals stuff and lies about others. Like CoolGamer23, he eats loads of pizza.
"How can you explain this?"

This article (KewlGamer Nijuusan) is a stub. Why don't you help the GoAnimate Community by expanding it? Just smash that "Edit" button and expand it as much as you can!
Ad blocker interference detected!
Wikia is a free-to-use site that makes money from advertising. We have a modified experience for viewers using ad blockers

Wikia is not accessible if you've made further modifications. Remove the custom ad blocker rule(s) and the page will load as expected.