"There are no lakes here, fool."
—The official motto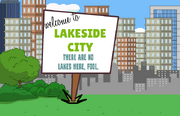 Lakeside City is a metropolis located in Florida. It is the main setting in Comedy World. It's also one of GoCity's "neighbors." The population is 10,05,997, a reference to when Comedy World debuted (October 5, 1997).
Features
Lakeside City features:
a questionable law enforcement and education system
modern buildings and transportation
and, last but not least:
History
Lakeside City was discovered in 1876 (the year copper wire was invented) by two Canadian immigrants who fought over a penny. One of them died shortly after the other buried him under 12 feet of snow.
Climate
The weather in Lakeside City depends on the seasons. It varies from warm springs to humid summers to freezing winters.
Trivia