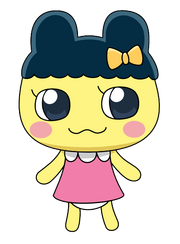 Mamechamametchi
 is
Mametchi
and
Chamametchi
fused together after a major accident.
Likes and Dislikes
See their respective articles.
Gallery
Trivia
Mametchi and Chamametchi can fuse into this if a major accident occurs, but only through spells or in Mametchi's laboratory.

They can also fuse into this through Mametchi's fusing kick in FC Mametchi's games.

To control their fused body, the Mametchi part would be talking. After that, the legs would shift to the other body, which would trigger the Chamametchi part.

There is a rare chance that both bodies would be controlled at the same time.
See also
Ad blocker interference detected!
Wikia is a free-to-use site that makes money from advertising. We have a modified experience for viewers using ad blockers

Wikia is not accessible if you've made further modifications. Remove the custom ad blocker rule(s) and the page will load as expected.