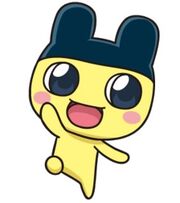 Mametchi is a Tamagotchi. He is one of the newest members of the GoGang. As shown in GoGang: 8-Bits n' Pieces, he enjoys all Mario Kart games and even plays as himself in Arcade GP 2. His sister is Chamametchi.
Likes
Memetchi, Kuchipatchi, Pingy, Mario Kart, the GoCity Arcade, Cuddles, Toothy, Christian Adams, Sophie the Otter, his anime, video games, Tamagotchi Video Adventures, Gotchiman, etc.
Dislikes
Devilitchi, Gotchiman's enemies, losing, bad users, Alice, the Bug-Bytes, Moe and Joe, villains, impostors, etc.
Gallery
Abilities
Mametchi is similar to Blue Mario, as he has 3 abilities; he can grow giant, ride a bike and make a spin attack, like Sonic. For him to grow giant, some yellow/black gradient liquid called Gianttchi is poured on him. For this, the liquid spreads all over his body, even his insides. His brain is told to have him grow giant, which is done by sending a signal to his brain. After that, a second signal is sent to the liquid. When the second signal is sent, he grows to be giant. He has a long jump from his legs. When he jumps too high, he opens his umbrella, but if he falls down from 777 kilometers, he will also open his umbrella along with safety equipment. He can also make spin attacks by turning him into a ball for however he likes, and then he switches to his usual look. The spin attack interacts with spikes and when Mametchi's in his ball form, he'll never hurt himself. Also, he can ride bikes fastest as he can, like 400 kph while racing with faster than him. He has another bike which the top speed is 120 kph, making the Tamagotchi Republic's fastest bike rider. He usually ties with Blue Mario in bike racing.
Trivia
He is a playable character in Mametchi & KuroMametchi, along with KuroMametchi.
He was said by KingKool720 to be the Iogrpedia version of the Minions. Ironically, Christian Adams, the "Tamagotchi mastermind", also likes Despicable Me.
He can be seen in and is the mascot of the Mametchi's GotchiWorld area of GoAnimateLand. However, he will be one of the three mascots of Blorangeredia.
He is the first Tamagotchi to exist to the GoAnimate community.
He is the only Tamagotchi to not be in BoyInCharge55's character gallery.
He was mistaken for a rabbit once.
He says that his feet and legs are very strong, even stronger than Blue Mario. He even says that he began to be that way in games beginning with FC Mametchi's second 2006 match against FC Guyish Central.
He is one of the only two characters who can fuse into Mamechamametchi.
See also
External links
Ad blocker interference detected!
Wikia is a free-to-use site that makes money from advertising. We have a modified experience for viewers using ad blockers

Wikia is not accessible if you've made further modifications. Remove the custom ad blocker rule(s) and the page will load as expected.