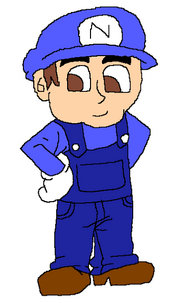 Nicolas is the main character of The Parody from 2013 to present's "Super Nicolas", who serves as the first OC created by Nicolas Mejia, However, Nicolas only has 4 sidekicks by his side, Although, Nicolas is also the Savior of the Handsome Prince Newell & the pretty Princess Artemis,
According to Nicolas' Adventures, Nicolas also saves Princess Artemis from the Evil king of Aliens, Known as the Attacker of Aqua Kingdom named "Venom".
Ad blocker interference detected!
Wikia is a free-to-use site that makes money from advertising. We have a modified experience for viewers using ad blockers

Wikia is not accessible if you've made further modifications. Remove the custom ad blocker rule(s) and the page will load as expected.