This article has no links to other GoAnimate Community articles.

Please help improve this article by adding links that are relevant to the context within the existing text.
Noodle is a good character and a member of the band "Gorillaz".
Likes: The Simpsons, Family Guy, Robot Chicken, South Park, Rayman, Sonic, Shrek, Looney Tunes, Woody Woodpecker, Bambi and other good stuff.
Hates: Earthbound, Teletubbies, Blue's Clues, Barney, Caillou, Dora, Thumbelina, FoodFight, 2012 (the movie) and other bad stuff.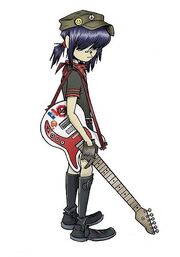 Ad blocker interference detected!
Wikia is a free-to-use site that makes money from advertising. We have a modified experience for viewers using ad blockers

Wikia is not accessible if you've made further modifications. Remove the custom ad blocker rule(s) and the page will load as expected.