This page is about a "Bad User" .

Please, do not add or say any offensive lines to the said user, we do not tolerate cyberbullying!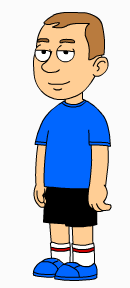 Patrick1100
(aka
SummerFan2002 VGCP
) is a controversial Canadian GoAnimator that joined on April 12 2015. He likes special agent oso errors and barney errors. He has over 100 videos and over 40 followers.
He has over 300 views and has over 30 subscribers on youtube.
Controversy
W.I.P.
Friends
Friends: Favourite Shows and Characters: CECOfficial DoctorWhoRules2015 Strawberry Shortcake Kirby Loopsy Special Agent Oso mia and me lover 80 Handy Manny GoAnimator10 Mickey Mouse Clubhouse TriggerHappyFan2001 Jungle Junction louielouie95 Sofia the first coakcoa Thomas and Friends LilEdmond Brown African Vulture Enemies: OfficerPoop247 (not my enemy) Evil Strawberry Shortcake KonataComedian2004 Evil Kirby Loopsy Barney Error Makers Serena Loopsy + Sakura Loopsy TransformersGuy48 Other Kirby Loopsy Imposters OishiKawaiiFan2015 cyborg Kirby loopsy, cyborg mia and me lover 80, cyborg transformersguy48, DeviousDieselFan1999.
Userbox
| | |
| --- | --- |
| en-N | This user is a native speaker of English. |
Ad blocker interference detected!
Wikia is a free-to-use site that makes money from advertising. We have a modified experience for viewers using ad blockers

Wikia is not accessible if you've made further modifications. Remove the custom ad blocker rule(s) and the page will load as expected.