Peanut Otter, you are ungrounded!

Congratulations! This article has been nominated to be a featured article! If you would like to support it, either add more information, follow it, or drop a comment below!
This article needs more links to other articles to help integrate it into the wiki.

Please help improve this article by adding links that are relevant to the context within the existing text.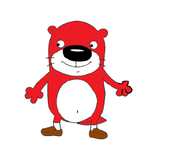 Peanut Otter
is a red otter from
PB&J Otter
. He is one of
Sophie the Otter
's cousins. He is arguably the most well-known character from the program by GoAnimate users. He also starred in a GoAnimate video game called 
Peanut Otter's Roller Run-Down
.
Voices: Eric (Alex Kimble's version and as Swordlord P)/Kimberly (PB&Jotterisnumber1 and KingKool720's version)/Liang (Chinese accent in Ursula lives in Karate with PB&J), Adam Rose (outside of the GoAnimate universe. No, it isn't the wrestler)
Likes & Dislikes
Likes
PB&J Otter, Good Users, Non-Baby Shows, SpongeBob SquarePants, doing the Noodle Dance (even though he usually refuses to), Tom & Jerry, Yogi Bear, Huckleberry Hound, Quick Draw McGraw, Wally Gator, Sophie the Otter, Bucky Spacebeaver, Mallard Man, boys' stuff, Nickelodeon, Cartoon Network, 1980's cartoons, reading comic books, baseball, King Kool, Captain Barnacle's Cartoon Bark and other good stuff.
Dislikes
Bear in the Big Blue House, Winnie the Pooh, Barney, Dora The Explorer, Caillou, Mike the Knight, being grounded, getting in trouble, and other bad stuff.
Other Info
Date of Birth: June 17, 2008 (age 7)
Zodiac Sign: Gemini
Swordlord P
Peanut's alter-ego is Swordlord P. He wears a cowboy hat, a black belt, and a star badge. His voice also changes to Eric. He sports a sword called Shibuki and can also throw katanas and chakrams.
Gallery