Not good enough!

This article uses some of inappropriate examples as seen on the rule(s).

What was broken: This article does not have any sections.

An admin could have to fix these issues. Issued by: BoyInCharge55 on October 15, 2015.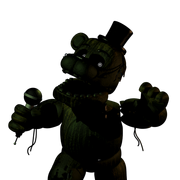 Phantom Freddy
is the titular antagonist in the game Five Nights at Freddy's 3 and is one of the six phantom animatronics in the game. He is a hallucination of a burnt and damaged Freddy Fazbear.
"How can you explain this?"

This article (Phantom Freddy) is a stub. Why don't you help the GoAnimate Community by expanding it? Just smash that "Edit" button and expand it as much as you can!
Ad blocker interference detected!
Wikia is a free-to-use site that makes money from advertising. We have a modified experience for viewers using ad blockers

Wikia is not accessible if you've made further modifications. Remove the custom ad blocker rule(s) and the page will load as expected.