RobbiePwns135



Name

Robbie

Also known as

RobbiePwns135
RobbieComedian (GoAnimate)

Wiki Debut

June 2014

Current status

Admin
Bureaucrat
Moderator

Voice

Eric (June 19th 2014-April 29th 2015)
Paul (April 30th 2015-present)

Links
RobbiePwns135, (or by his GoAnimate name RobbieComedian, or just simply Robbie) is one of the more well-behaved users on here, and he is a Dailymotion user, famously known on GoAnimate for his Dora Gets Grounded videos.
He is one of our Admins on this wiki.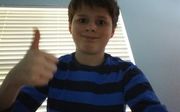 Current grounded series
Trivia
He is one of many users who has autism.
He is the only famous GoAnimator who does not have a YouTube account.