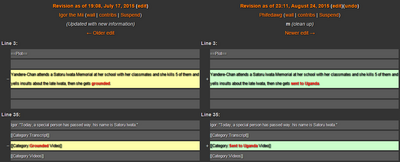 Sent to Uganda
is an incredibly annoying "meme" that
Phifedawg
tried to make popular by replacing "grounded" with "sent to Uganda", caused by potentially massive vandalism.
Origin
It is unknown if Phifedawg visited Uganda himself or just heard of it. Whenever "sent to Uganda" is searched on Google, it appears as the third result in the top search results. (second if searched in Brazilian Google)
Cause
The cause of the attack was caused by a bot script ran on Phifedawg's account. Like almost all bots, the attack was commenced through the Automated Wiki Browser.
Planned Drillimation
CoolGamer23 is currently planning a Drillimation named Wataru sends Konata to Uganda.
Gallery
"How can you explain this?"

This article (Sent to Uganda) is a stub. Why don't you help the GoAnimate Community by expanding it? Just smash that "Edit" button and expand it as much as you can!