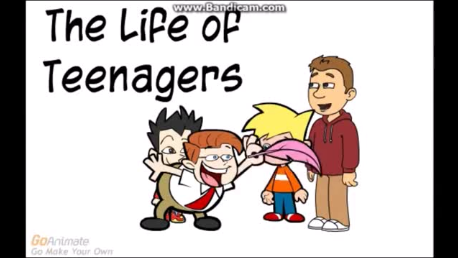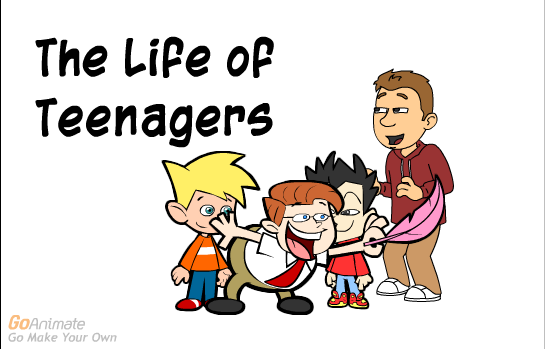 The Life of Teenagers is a 2015 television series made by Gabriel Lowery. The series involves four teenagers on a adventure from GoAnimate High School and from the Republic of GoAnimate. This show was giving a TV-PG-L rating in America and a PG rating in Canada due to scenes of censored swear words and mild scenes of violence. It has been produced at Gabriel Lowery Productions and aired on GoAnimate Network on the 25th of May 2015, [ktmsn@nite] on 5th August 2015 and Adult Swim on the 15th April 2016.
Development
Gabriel Lowery made this show using GoAnimate Videomaker on his Windows 8 computer. He started developing the show in early 2015 and took 2-4 days to make an episode of this show.
Characters
Main Characters
Click (voiced by Young Guy (Charlie))
Trip (voiced by Kidaroo)
Terrence (voiced by Steven)
Stephen (voiced by Eric)
Recurring Characters
Click's Mom (voiced by Amy)
Anthone (voiced by Joey)
Mrs. Jane (voiced by Elizabeth)
Minor Characters
Episodes
Season 1
3. TBA
4. TBA
5. TBA
6. TBA
Season 2
1. TBA
2. TBA
3. TBA
4. TBA
5. TBA
6. TBA
Awards
The Life of Teenagers was held a Guinness World Record for most censored swear words, mild violence and teenaged adventured.
Ad blocker interference detected!
Wikia is a free-to-use site that makes money from advertising. We have a modified experience for viewers using ad blockers

Wikia is not accessible if you've made further modifications. Remove the custom ad blocker rule(s) and the page will load as expected.