Z-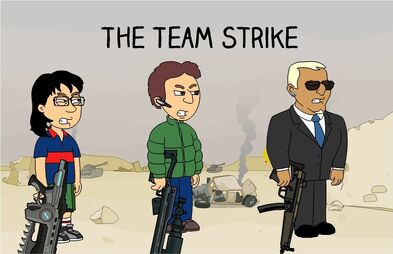 The Team Strike are the characters created by Mike UTTP. They always Plan to kill some Good Users, and AGK Makers when they found a videos out of Bad Users.
They Kill Taylor JoliCoeur VGCP and Eric (Taylor JoliCoeur VGCP's Husband) at Afternoon because she makes videos out of Bad Users. They Also Killed SilverTheHedgehog99swell when they find out about he make videos out of Chris UTTP and Lucas UTTP.
However there is a possibility that they will kill Tina Hyacinth Sullivan O'Neil in Tina-Diesel Detention Center..
Members
PowerJohn25 UTTP
Mike UTTP
Macusoper Busters
Likes: Bangsters Army, Stephanie Gavin, Warren Cook, Grand Chase Characters, UTTP, Bad Users, SuperMaroZaki, Zara Dawson, Caillou, Dora Marquez, Barney, Bad People, Kaos, Skylanders Villains, Crossy Road Sucks, Thumbelina, Earthbound, Ness, Louiecomedian 2015VGCP, Caleb The Animator
Neutral with: Chris UTTP, Lucas UTTP, and Michael UTTP
Dislikes: Tina Sullivan O'Neil (Tina Diesel Detention Center), Erika Dawson, Annabelle Dawson, LouieLouie95, Paul C, Taylor JoliCoeur VGCP, ProjectCarsYes DoraNo VGCP, Cansin13, Atarster, Videoman1443, TheKewlOne96, Pauladrian360, VGCP, Good Users, Good People, AngryGermanKid82, Skyler Hawkins, AGKandvideomaker2000, WrathriumXFears (KillerNinja65), AGK Makers, CP SkyYes GCNo (Pandastation3 SkylandersYes GrandChaseNo), Trap Team Force characters, Skylanders Heroes including Snapshot, Porky (Earthbound)
Ad blocker interference detected!
Wikia is a free-to-use site that makes money from advertising. We have a modified experience for viewers using ad blockers

Wikia is not accessible if you've made further modifications. Remove the custom ad blocker rule(s) and the page will load as expected.